We offer high-quality Australian Novelty ID Cards with your details and picture printed on high-grade PVC Plastic (the same material as Credit Cards) in an easy 3 step process.
Head over to the Order Page to select which card you'd like to purchase.

Fill in the details you'd like printed on the card. Make sure you use your correct email as payment instructions will be sent to it.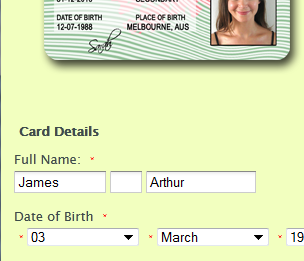 After you have successfully filled in the form and uploaded the picture you want on your card you will be shown payment instructions. You will also receive an email from us confirming your order.
The rest is up to us – your card should arrive within a week!